CERTIFIED AND TESTED AT ANALYTICA LABORATORIES IN NEW ZEALAND. PURE RAW AUSTRALIAN MANUKA HONEY
Discover our outstanding 1500+ MGO Australian Manuka Honey Value Pack, featuring three 250g jars of Premium Rare Grade Manuka Honey. With an impressive 1500+ MGO, this extraordinary honey is your go-to for medical emergencies, providing...

High-strength medicinal grade Australian Manuka Honey. May assist with Immune support, cold and flu symptoms, sore throat and digestive well-being. 
Premium Rare Grade Australian Manuka Honey. Extremely strong. Antiviral and antibacterial. Used on wounds, burns and infections externally and internally can aid in digestive tract ulcers and infections, I.B.S. and mouth/ gum problems as well...

May assist with Immune support, cold and flu symptoms, sore throat and digestive well-being.
This is a very high-strength medicinal Manuka Honey. The honey can be effective on multiple resistant bacterial infections internally on the mouth and other digestive ulcers and gum disease as well as being used externally...

Introducing the MGO 1200+ Ausmanuka 250g - a powerful, high-strength Australian Manuka Honey. Primarily used by customers to combat gut issues and stomach infections, this potent honey is also effective when applied topically for wounds,...
Introducing our exceptional Premium Rare Grade Australian Manuka Honey, boasting a remarkable 1500+ MGO. This extraordinary honey is perfect for your medicine cabinet emergencies, offering powerful antiviral and antibacterial properties. Ideal for treating wounds, burns,...

~~~Rare Harvest - Black Label~~~ Used for infections, ulcers and wounds and can be helpful with stomach issues. Take 1 teaspoon on an empty stomach for best results. Apply to a wound after cleaning and apply a...
High-strength medicinal grade Australian Manuka Honey. May assist with Immune support, cold and flu symptoms, sore throat and digestive well-being.

~~~Save $36~~~ Discover the remarkable healing properties of our potent 900+ MGO Australian Manuka Honey with this value-packed 3x bundle. This high-strength medicinal honey effectively combats resistant bacterial infections, both internally and externally. Ideal for...
AUSTRALIAN MANUKA
Experience 2100+ MGO Manuka honey's powerful antibacterial potency.
Raw Honey
Enjoy pure, nutrient-rich raw honey.
Body Care
Pamper yourself with honey-infused body care.
Black Seed Oil
Unlock black seed oil's potent health benefits.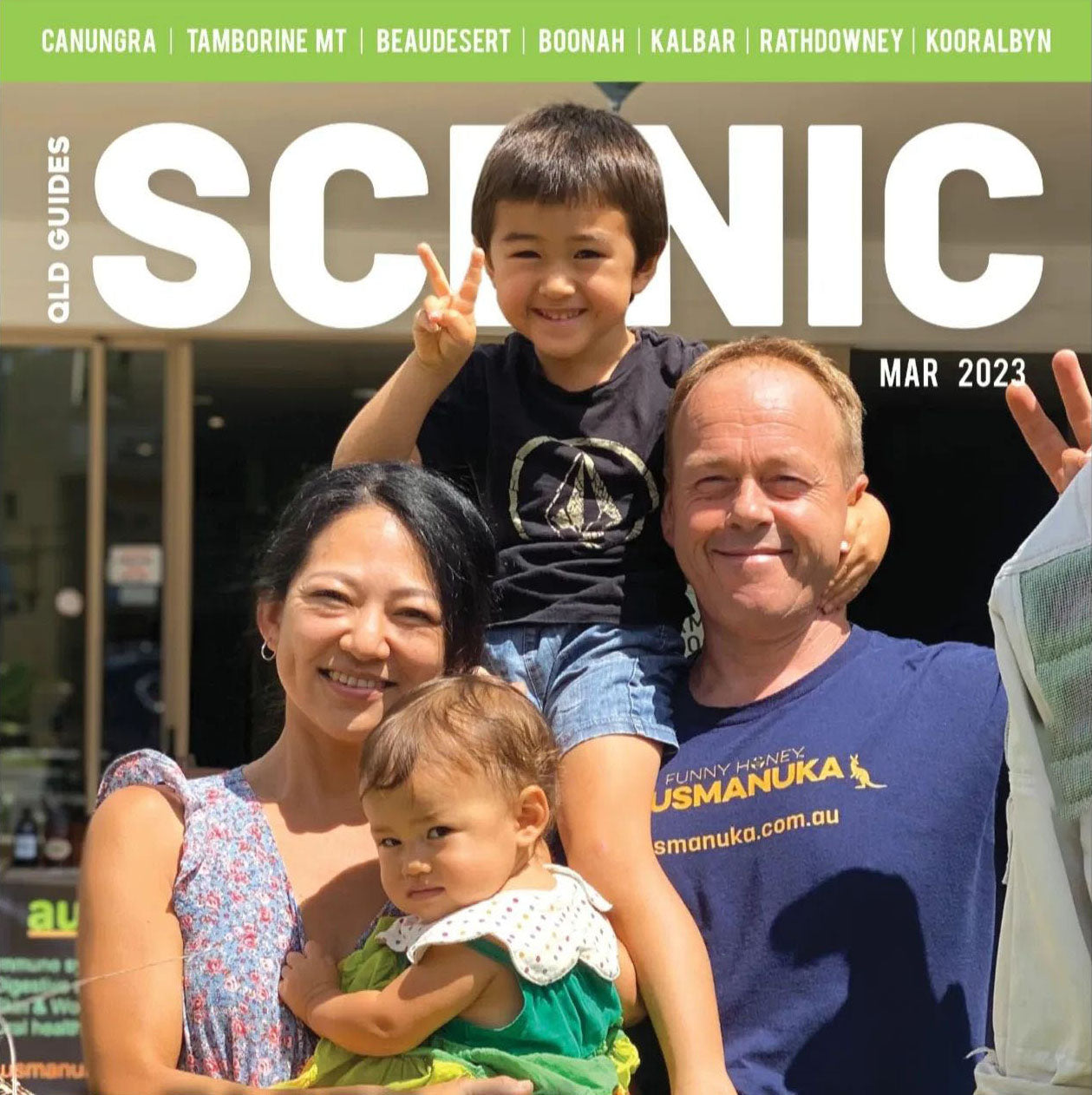 Proudly Family-Owned Business
As a warm and welcoming family-owned business, we're proud members of the Australian Manuka Honey Association, situated along the charming Gallery Walk in Tamborine Mountain. We delight in offering fresh, pure, and unprocessed local honey, including high-strength 100% Australian Manuka Honey. Our delightful honey selection encompasses Macadamia, Ironbark, Leatherwood, and Honeycomb varieties, ensuring a delightful experience for all.

100% Fresh & Raw Honey
Indulge in our 100% fresh honey, bursting with natural goodness and sensational flavors to invigorate your taste buds.

Up to 2100+ MGO Medicinal Manuka
Experience the incredible power of our 2100+ MGO Manuka honey, boasting unparalleled potency for astounding health benefits.
I have just ordered my 2nd jar of Manuka honey 1400, I have found it has settled my stomach as I have been struggling with Helia Bactor Pylori a nasty bacteria for 10 months, I had an appointment with a gastroenterologist yesterday and told him I was taking it as I had an allergic reaction to the cruel antibiotic that is used to treat this. He gave me a very positive reply and said that he knew that Manuka honey was beneficial because of its healing properties, I was stunned really as I know the medical profession usually poo hoo alternative therapies.
Gayle Ollivier, Google Review
What a wonderful locally-owned honey shop. I received excellent customer service from the owner while searching for some locally sourced honey during my visit to Mount Tamborine. Picked up some great tasting Manuka honey after learning about all its great health benefits. You can be sure to shop confidently as the staff are very well educated in the honey world. They offer a large assortment of various types and strengths of honey. I will for sure be recommending this shop to anyone looking for honey, definitely worth the drive from anywhere. Looking forward to my next visit!
Erin Pritchard, Google Review
I have been using the Manuka 1600+mgo for a couple of months now and it has made a big difference not only with improving digestive health but overall with strengthening my immune system - I am so impressed and grateful! My children love the Rainforest flavour of the regular honey and we use it every day. We are all very grateful to Matthew and Funny Honey for this beautiful, delicious and healing locally produced honey!
Donika Strasser, Google Review